This is one of the trending query being directed to my Inbox ever since the publication of AEFUNAI Official Fees for 2020/2021. Before we proceed with this post, i assume you have already seen all the fees you are to pay in AEFUNAI and is concerned only over the developmental levy. If you haven't, follow this how much should i budget for clearance >>> how much should i budget for clearance

WHAT IS DEVELOPMENTAL AND INFRASTRUCTURAL LEVY
This is levy paid to the FUNAI Parents forum which is directed towards infrastructure and development of the school environs.  In other words, this is tax revenues collected by the school authorized/on behalf of the government on infrastructural development. This levy is being paid mostly in new universities founded during Goodluck Jonathan Administration.
Also Read:  AEFUNAI ADMISSION UPDATE 2021/2022- Check if you are admitted
For those recently admitted – See how to use the school portal here >>> https://funaiwhistle.com/2022/01/aefunai-student-portal-process-flow-how.html 
AEFUNAI DEVELOPMENTAL AND INFRASTRUCTURAL LEVY –
AEFUNAI development fee is N50,000.00 [ For other courses] while Medical students pay 250,0000
Trending: SIMPLE TIPS ON HOW TO SAVE YOUR MONEY AS A STUDENT IN NIGERIA ESPECIALLY IN AEFUNAI 
CAN I PAY IT IN TWO INSTALLMENTS?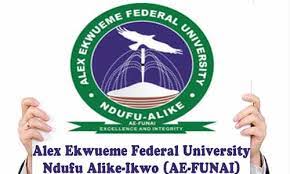 The schools accepts paying it in 2 installments; an initial 30k and 20k to be paid later.
Note: AEFUNAI stresses on this levy and it must be paid before GST exams.  
Also Read: UPDATED AEFUNAI LECTURE TIMETABLE FOR 2019/2020 (2021) ACADEMIC SESSION – All Departments (DOWNLOAD)  

Very important. Dont use the fee and rent house off campus with the hope of paying it later to avoid stories that touch.  
 If you have any issues, am always here to help. You can chat me up on +2348167788957 via WhatsApp only pls. 💖

Account details are:
FIDELITY BANK,
A/C NAME: FUNAI PARENTS FORUM –
A/C NO: 6060217667
Also Read: The Secrets and Truths Nobody Ever tells AE-FUNAI Aspirants  
NB: This post is purely made because of those asking queries if the fee can be paid once or in installments.
Also Read: AEFUNAI ADMISSION UPDATE – Why your name is not in Primary List Explained 
Last Updated 1 year