Wordle, the popular online word-guessing game, has captured the attention of word enthusiasts around the world. If you're eager to join the ranks of skilled Wordle players and master this addictive game, you've come to the right place! In this ultimate guide, we'll walk you through everything you need to know to play Wordle 2023 like a pro. From the basic rules to advanced strategies, let's dive into the wonderful world of Wordle!
What is Wordle?
Wordle is an online game where players attempt to guess a five-letter target word by submitting their guesses. With each guess, the game provides feedback to help you narrow down your options. The objective is to guess the target word in as few attempts as possible, using logic, reasoning, and a bit of luck.
Understanding the Basic Rules:
To get started, visit the official Wordle website. Once there, you'll be presented with a five-letter target word, which is hidden from view. You can input your guess by typing it into the text box provided. After submitting your guess, the game will provide feedback in the form of colored squares:
Developing a Winning Strategy:
Now that you understand the basic rules, let's explore some strategies to enhance your Wordle gameplay:
Start with Common Vowels and Consonants:
When making your first guess, it's advisable to start with commonly used vowels (e.g., A, E, I, O, U) and frequently occurring consonants (e.g., T, N, S, R). These letters tend to appear more frequently in words, giving you a higher chance of uncovering the target word.
Analyze Feedback and Adjust:
The feedback from each guess is crucial in refining your subsequent attempts. Pay close attention to the green and yellow squares to analyze which letters are correct and their respective positions. Adjust your strategy accordingly, focusing on the possible combinations that match the feedback received.
Utilize Process of Elimination:
As you make more guesses and receive feedback, make note of the letters that have been eliminated. By process of elimination, you can narrow down the potential letters and positions, making your subsequent guesses more informed and strategic.
ALSO READ: Pubg Lite Latest Version Apk + OBB Offline (Android Version 0.19.0) 2020
Consider Word Patterns and Common Letter Combinations:
As you gain more experience, take note of word patterns and common letter combinations. This knowledge will help you make educated guesses and speed up your progress. For example, if you know that a certain combination of letters frequently appears as a suffix or prefix, it can guide your choices.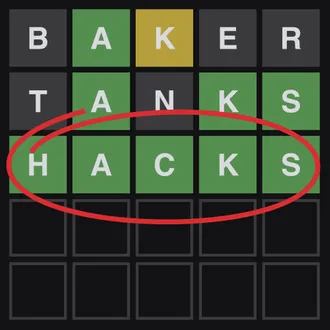 Practice, Patience, and Persistence:
Mastering Wordle requires practice, patience, and persistence. The more you play, the better you'll become at recognizing word patterns, analyzing feedback, and making informed guesses. Remember, even the most seasoned Wordle players started as beginners, so don't get discouraged if you don't succeed right away. Keep honing your skills, and you'll see improvement over time.
PREVIOUS WORDLE ANSWER ARCHIVE BY NME
When guessing the Wordle answer for today, it can help to know what words have come before. Here's some recent answers:
PLANK
LATTE
CANOE
SCARF
ACRID
SNACK
BROOM
ETHIC
COCOA
AGLOW
GHOUL
ANGER
BELOW
GUPPY
HORDE
SULKY
RANGE
PLAZA
CEDAR
CIRCA
LOGIC
METRO
JOKER
DITTO
UNZIP
BROKE
KAYAK
PLATE
THUMP
HOUND
WHIFF
DWELT
AGONY
THIEF
CARAT
BORAX
QUALM
UNDER
SNAFU
LEDGE
LOCUS
LEAFY
SMASH
RATIO
FLORA
STOCK
MARCH
EVERY
BREAD
BESET
HURRY
GUANO
UNTIE
VOTER
GROUT
STAID
DUVET
TOUGH
GLOVE
CREDO
YACHT
MEALY
CIDER
SWEEP
SURLY
BLAME
BIRTH
EMAIL
REVEL
WHERE
REGAL
HORSE
PINKY
TOXIC
TREND
SQUAT
ABOVE
MOOSE
POLKA
WORSE
SYRUP
FIFTY
ARBOR
VAGUE
RIPER
RUDDY
SWEAT
KIOSK
AVAIL
CACHE
MAGIC
GIANT
DEBUG
HEADY
STAGE
FLAIL
APPLE
NINTH
DANCE
UNLIT
TASTY
SHIRK
SCOLD
CROSS
CRAVE
FISHY
FLIRT
WORRY
BEEFY
MAIZE
COUNT
ALTER
MUCKY
CHARD
ADOPT
FROCK
SPIRE
KOALA
HUMAN
LEAPT
SEDAN
GRIMY
PIXIE
OPERA
LEMON
BELIE
SLEEK
LAYER
ANTIC
SKIRT
WHINE
MOLAR
HAVOC
IMPEL
CONDO
JUDGE
EXTRA
POISE
AORTA
EXCEL
LUNAR
THIRD
SLATE
TAPER
CHORD
PROBE
RIVAL
USUAL
SPOKE
APPLY
NAIVE
KNOCK
BRAID
INFER
JOUST
AMBER
WOKEN
ADORE
TORSO
CHAFE
EJECT
STUDY
UNDUE
TEPID
HAPPY
CLEAN
ITCHY
FEAST
DRIVE
PRIME
AXIOM
BRAVE
AVERT
GLYPH
THERE
BAKER
SNARL
MAPLE
INANE
VALET
MEDAL
UNITE
RAINY
SPELL
BEGIN
STALE
DREAM
PHOTO
ALOUD
INEPT
PINEY
APTLY
WALTZ
LIBEL
SNEAK
CARRY
FLOUT
FOGGY
FAULT
MUMMY
SPIEL
GROVE
DENIM
QUIRK
EXIST
STEIN
SPADE
CATCH
FLOOR
EQUAL
IONIC
VALID
ENJOY
HOWDY
VIGOR
DANDY
SLOTH
MARSH
BOUGH
STING
TWINE
LEAVE
SCORN
SCALD
USURP
SOGGY
BRISK
ADMIT
GRATE
GLORY
SAINT
RECAP
ALIKE
TRICE
STICK
CHUTE
PARER
DOUBT
THYME
ALPHA
BOOZE
LOFTY
THEME
CLASS
LEERY
TAUNT
WHOOP
INTER
GULLY
CHARM
FUNGI
PRIZE
ONSET
CHIEF
GAUZE
RUDER
IRONY
CLOWN
NEEDY
WOVEN
MERIT
WASTE
TREAT
SHRUG
TWANG
TWICE
GRUEL
POKER
KHAKI
HUNKY
LABEL
GLEAN
CLING
PATTY
UNFIT
SMEAR
AUDIO
BUGGY
RHYME
YOUTH
COYLY
QUART
CRAMP
BLUFF
UPSET
STOMP
MOTTO
CINCH
ELOPE
POWER
MIDGE
TRYST
APHID
BEADY
SMITE
BRINK
AWFUL
GLOAT
LOSER
CACAO
BLOWN
APRON
PRIMO
ATONE
DONOR
FLOAT
GOOSE
PIETY
GIRTH
TRAIT
FLOOD
DEPTH
FROTH
PHASE
SHOWY
CREAK
MANOR
ATOLL
BAYOU
CREPT
TIARA
ASSET
VOUCH
ALBUM
HINGE
MONEY
SCRAP
GAMER
GLASS
SCOUR
BEING
DELVE
YIELD
METAL
TIPSY
SLUNG
FARCE
GECKO
SHINE
CANNY
MIDST
BADGE
HOMER
TRAIN
HAIRY
STORY
FORGO
LARVA
TRASH
ZESTY
SHOWN
HEIST
ASKEW
INERT
OLIVE
PLANT
OXIDE
CARGO
FOYER
FLAIR
ALSO READ: God of War: Ghost of Sparta PPSSPP ISO File Highly Compressed 2021
Wordle 2023 is an exciting and challenging word-guessing game that offers endless hours of fun. By following the strategies outlined in this ultimate guide, you can elevate your Wordle gameplay and improve your chances of guessing the target word more efficiently. Remember, becoming a Wordle pro takes time and practice, so don't be afraid to embrace the learning process. Now, armed with this knowledge
Wordle is available for free on PC and mobile.
Last Updated 4 months