If you know you are one or you make use of huge amount of data on a daily basis and you've been searching for ways to cater that then this article is for you for you can now get a Glo 1TB one terabyte which is approximately 1000GB plus amount of glo data respectively read the article to the end to get more info amount this data plan.
Globalcom one of the grand master of data in Nigeria has introduced a mega data plan which will allow you to get Glo 1terabyte data 1TB that will allow you to makes use of some huge amount of data if you make use of a lot of data either at home or work which will allow you carry out what you want with this data.
Glo 1TB One Terabyte 1000GB Mega Data Plan
This plan is named Mega data plan or a super data plan because it was attached with some other related huge amount of data which range from smaller to bigger that will now allow you to get the glo 1TB mega plan respectively.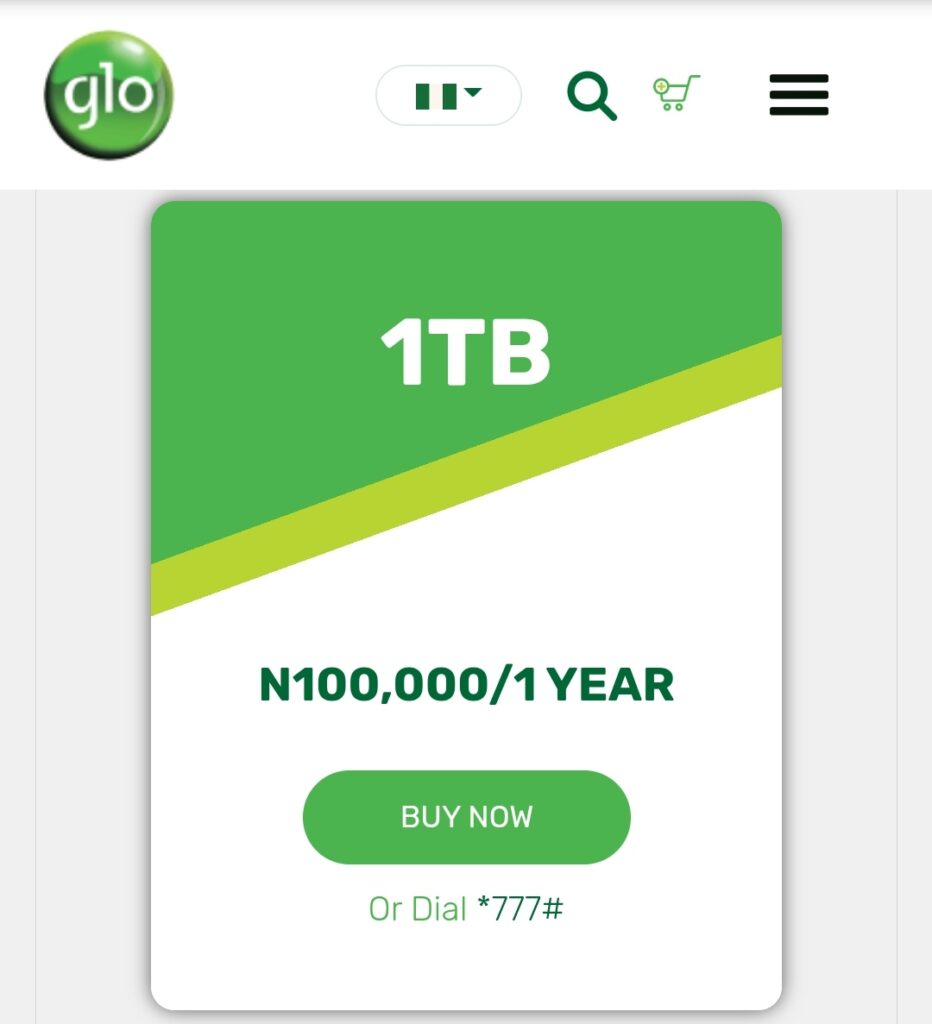 You should know it's not free, it's a data plan which will be afforded to you in an affordable way respectively and you can get 225GB glo data for N30,000 which is part of the mega data plan.
The Glo 1TB mega data plan cost N100,000 while some other little mega plans are also still available respectively as you can get a 300GB glo data plan for N36,000 with some other offer attached with it.
They don't stop their they also have the plan of N50,000 which will allow you to get 425GB amount of glo data respective to the end till it's reaches 1TB glo data plan.
N60,000 glo amount of data will give you 525GB mega data plan and 675GB for N75,000 which the 1TB ends the plan that can also be fetch out from the table below in respect to the amount of data you will get plus plan.
Trending:Glo Data Plans & how to get 101GB+ Awoof Bonus Codes
| | |
| --- | --- |
| Price # | Amount Of Data |
| 30,000 | 255GB |
| 36,000 | 300GB |
| 50,000 | 425GB |
| 60,000 | 525GB |
| 75,000 | 675GB |
| 100,0000 | 1TB |
You can get does data plan as a glo mega data plan or super data plan learn how to subscribe before.
How To Subscribe To Glo Super Mega Plan Glo 1TB Data
Visit Glo data plan site here and locate the super mega plan.
After that select plan or your choice load the airtime on your line and subscribe.
Offline method by dialing *777# and switch to data plan or Super Mega plan.
Then select the plan of your choice from the mage plan provided on the list.
What Are your thoughts about this plan?
Less we forget this plan does not select any sim or customers, for it's available and all glo customers either new or old members are eligible to make use of this glo super mega data plan respectively.
Last Updated 2 years